What is "Med-RANO"?
Medq@ANO  is a medical grade medication reminder and overdose deterrent that reminds patients when is time to take a medication and alerts them before they mistakenly try to take an extra dose.
How does it work?
Take your medication as you normally do.  When it is time to take your medicine again, the SmartBottle will alert you by continuously beeping and blinking green.  In the event that you forget if you have taken a dose, you can just look at the bottle. If it is red don't take it because you already did. that's it. No more worries.
I don't see buttons. Do I have to set it up?
If you get a bottle with fixed time interval such as for every 6-hour doses, you won't need to set it up. It comes ready to be used.
However if you buy a premium bottle with multiple intervals you will need to move the time-slider to your desired time schedule e.g.,  4, 6, 8, 24-hour.
How long does the battery last?
Up to 9 months during normal use.
How many time intervals can it manage?
Bottles with fixed times  will come in the following time intervals: every 4, 6, 8, 24-hour.
You also will be able to buy a premium multi-interval bottle with a time-slider that you can slide to available time intervals 4, 6, 8, or 24-hour.
Do you need one device per bottle?
Yes, however we have designed a free-standing Hub and easy to use prescription bottle holder composed of two or more clamps that can group multiple medication bottles having the same dosing schedule.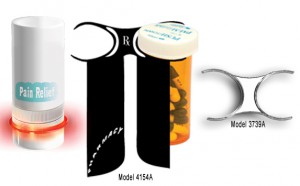 This is particularly important for patients taking multiple medication regimens since they can use one bottle reminder for all medications directed to be taken on that dosage time interval. It can help patients save money.
Will the device inform my doctor if I dont take my medication?
No. It does not tell on patient. It only helps patients take their medication on time every time.
Is it available for sale?
No yet. Medq@ANO is still in the early stage of development. Please register here and we will inform you when the device becomes available.
[/vc_column]